2019 Spring Move-out
Students who reserve a container storage unit (i.e. POD) will be able to schedule the delivery to campus as early as April 26. The storage unit can only remain on campus for a maximum of 3-days. Please keep the following important information in mind when planning the delivery and pick-up of the storage unit.
Dates:
Friday, April 26: First day PODs can be delivered to campus.
Saturday, May 4: No POD delivery to Lot 425N.
Thursday, May 9 through Saturday, May 11: No POD delivery or pickup on these dates due to UM Commencement ceremonies and activity.
Wednesday, may 15: Last day to remove all PODs from campus.
Approved storage unit placement on campus map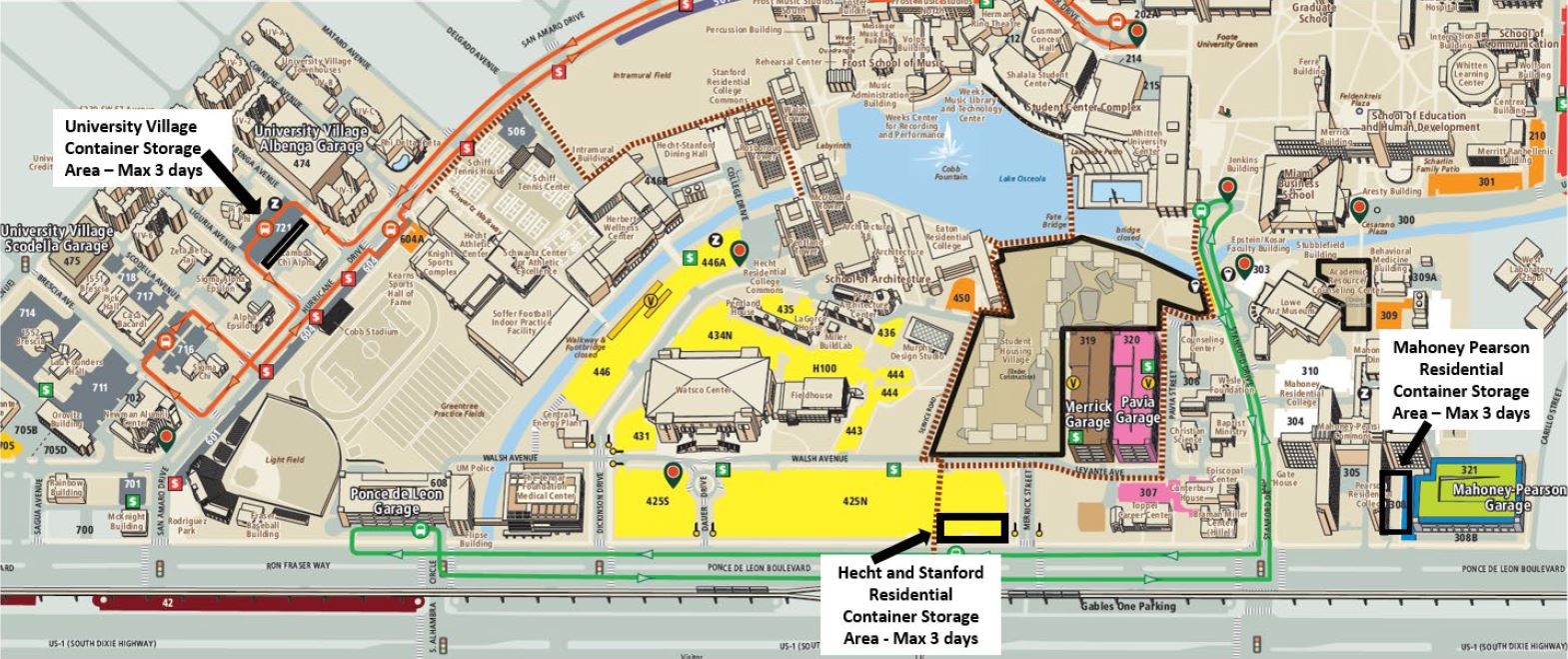 City of Coral Gables Permit: Please ensure the company you are using secures the required Storage Unite Permit.
Should you have any questions, please contact Parking and transportation at 305-284-3096, Option 2.
---
University of Miami Commencement: For details click here 
Non-University of Miami Graduations:
All ceremonies take place at the Watsco Center.  University parking lots and garages are enforced Monday through Sunday 8:00 am to 11:00pm.  A valid UM parking permit is required to park on campus, and vehicle must be parked head-in only.  
A 'Non-UM Graduation' parking permit is available for purchase from April 15 through June 7 of 2019, at a cost of $6, for students and their guests of the following schools - click here for list.  The permit is valid on graduation day only, and in all color parking zones except Purple.  For instructions on purchasing the permit online and creating an account, click here.
Otherwise, on graduation day, you may pay to park using PayByPhone or a Pay Station.  
---
Baseball Games
University parking lots and garages are enforced Monday through Sunday 8:00am to 11:00pm. Vehicles must park head-in only. 
M-F 8:00am - 4:00pm: A valid UM parking permit is required. Visitors may park in the Burgundy and Gray zones using PayByPhone at $1.50 per hour plus 27 cents transaction free.
M-F 4:00pm - 11:00pm and weekends, 8:00am - 11:00pm: A valid UM parking permit is requred.Visitors may park any color zone using PayByPhone at $1.50 per hour plus 27 cents transaction fee. A pay station is located behind the McKnight building (across the entrance to baseball field); cost is $1.50 per hour (no transaction fee).
The Ponce Garage is available for parking after 5:00pm M-F and all day on weekends. PayByPhone is the accepted payment method.
For Regional and Super-Regional games, check with Athletics for parking instructions.
---
E-Scooter Parking Policy 
Recently the City of Coral Gables approved an app-based, pay-as-you-ride electric scooter pilot program. While the university does not have a partnership with the e-scooter companies, scooters are showing up on campus and are parked illegally. In an effort to encourage e-scooter parking compliance, if you see a scooter blocking access to entryways, doorways, walkways, and ADA ramps contact UM Police at 305-284-6666. 
Scooter riders must follow university's scooter parking policy. Click here to familiarize yourself with the e-scooter parking policy.
---
Extended Enforcement
Effective Monday, August 20, 2018, parking enforcement hours at the Coral Gables Campus and Gables One Tower will be enforced 7-days a week from 8:00AM to 11:00PM. All vehicles will be required to have their license plate registered with the university during enforcement hours.
Daytime Campus Parkers (M-F from 8:00am to 4:00pm): There will be no change to current practice, which is; daytime permits are valid 24/7 in the assigned parking zone and in any other zone after 4:00pm M-F and 24 hours on weekends.
Visitors and Night and Weekend Parkers: Changes apply. Click here for additional information regarding extended enforcement hours. Available payment options include PayByPhone and Pay Stations (

see map

).
If you have any questions review the Frequently Asked Questions or contact Parking and Transportation at 305-284-3096, Option 2.
---
 No Back-In Policy
Effective Monday, February 19, 2018, all vehicles parked on the Coral Gables campus and Gables One Tower must have their licence plate number facing outward in order for it to be read by the License Plate Recognition (LPR) enforcement cameras.
Drivers with out-of-state vehicles that have both a front and back plate will be able to back-in. Drivers not having a front plate may purchase a "vanity" front plate from the Parking and Transportation Office located at the McKnight Building Suite 100. Be sure to familiarize yourself with the No Back-in regulations.
For answers to the policy's frequently asked questions click here. For suggestions on plate mounting kits click here.
---
Upgrade Your Parking Color Zone
Carpool to campus with a fellow 'Cane and park in the color zone of your choice (subject to availability) when you use the RideFlag Mobile App. Click here to learn how.